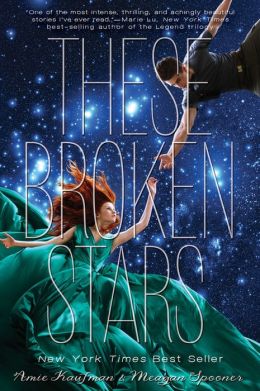 I stumbled upon These Broken Stars by Amie Kaufman, after a long drought of utterly predictable and not very unique storylines. The book came from a random Bing search, looking for "unique books" one cold and dreary night. There, it lead me to
www.goodreads.com
. Thus far, I've had good luck with their recommendations as it led me to Born of Illusions by Teri Brown, so I head dived into another book off their list.
It starts off set in the future aboard a luxury liner spacecraft, transporting thousands of wealthy and underclass citizens through the galaxy. Onboard is a decorated, underprivileged war hero, Tarver, as well as the most renowned and richest girl in the galaxy, Lilac. The two seem an unlikely pair with her cool, intelligent aloofness and his humble and awkward personality; they aren't fond of each other for most of the book.
Now at this point, it seems pretty straight forward, however, lovelies, I assure you it is a voyage worth taking.

Catastrophe strikes the luxury liner and suddenly the two are stranded together on what appears to be a deserted, terraforming planet.
This book did not disappoint! It starts off as a typical tale of romance, but the writing style positively captivated me. It was descriptive and fluid; nothing choppy as most young adult fiction tend to be and without the cliché phrases of romance novels. The storyline was unique and while some parts were easily predictable, it managed to raise my adrenaline levels in moments of peril; for my eyes to get misty as it reached the end of the book.
It was written in a perspective switching format from Tarver to Lilac to experience it through their minds, while each chapter was ended in an interrogation room. That starts off as a little confusing at first and a little discouraging, but bear with it. It's a worthy read. I am excited and elated to read the next of the series.
Pros:
-Star Crossed Lovers
-Intergalactic Space Travel
-Captivatingly Written
-Unique Storyline

Cons:
-Odd chapter breaks and endings with interrogations
-It ended.

Overall rating for the book: 7.5/10